Glen Allen, VA — VIVA, Virginia's academic library consortium, has signed an agreement with KnowledgeWorks Global Ltd. (KGL), the industry leader of transformative content solutions, to provide publishing services for its Open Grant program. This innovative partnership ensures the production of high-quality grant-supported open textbooks, open monographs, and other Open Educational Resources (OER) for use in Virginia higher education institutions.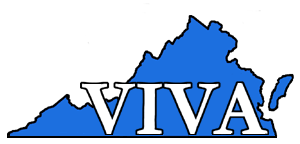 The VIVA consortium is comprised of 71 nonprofit higher education institutions and includes both public and private colleges and research universities from across Virginia. Since 2016, VIVA's Open and Affordable Course Content Initiative has supported sustainable educational resource and access models that enable equitable and inclusive learning, give faculty control over instructional materials, and lower the costs of higher education for Virginia students.
Starting in 2019, a key part of this program has been the VIVA Open grants, which fund the adoption, adaptation, and creation of OER for use in the classroom. While newly-created resources are written for Virginia classes and students, all grant-supported OER can be adopted in classes beyond Virginia and finished resources can be found on VIVA Open. One hundred and fifteen grants have been awarded so far, adopting existing resources, creating new resources, and creating ancillaries, such as slide decks, for existing open textbooks, which help provide a full package of classroom resources for other instructors wishing to use these open course materials.
To support the creation of open monographs and OER, KGL will provide VIVA with a host of content solutions, including interior and cover design, typesetting, EPUB conversion, artwork/graphics processing, copyediting, proofreading, indexing, accessibility remediation and testing, research and permissions clearance and management, animations, project management, other related services, and print on demand through sister company, Sheridan. With this agreement, individual member institutions also have the opportunity to contract directly with KGL to support their own publications.
Genya O'Gara, Acting VIVA Director, commented: "We are excited to collaborate with KGL in empowering Virginia faculty to develop exceptional, no-cost course materials for their students. The partnership allows us to leverage KGL's extensive expertise in digital publishing and higher education to provide direct assistance to Virginia faculty as they develop open and affordable texts that integrate and align with their instructional goals."
Waseem Andrabi, VP of Learning Solutions at KGL added: "KGL is committed to providing VIVA with an unmatched combination of subject matter expertise, industry-leading turnaround times, publishing experience, fully owned global resources, and an ongoing investment in technology. As a Virginia-based organization ourselves, we have a longstanding presence in the education market and are excited to help VIVA faculty, librarians, and publishing teams fill gaps in high-need open resources within the Commonwealth."
About VIVA
VIVA is the consortium of academic libraries in Virginia representing 71 institutions of higher education. Members include 39 public colleges and universities, 31 independent private non-profit institutions, and the Library of Virginia. For a comprehensive list of VIVA consortium members, please visit: vivalib.org/va/about/members-fte. Since 1994, VIVA has worked to build an equitable, accessible, and robust infrastructure of library resources and services for Virginia higher education students and faculty. For more information, please visit www.vivalib.org.
About KnowledgeWorks Global Ltd.
KnowledgeWorks Global Ltd. (KGL) is the premier industry provider of editorial, peer review, production, society services, online hosting, and transformative solutions for every stage of the content lifecycle. KGL serves the journal, educational publishing, and eLearning markets from content creation through distribution of print and digital products. A division of CJK Group, Inc., KGL unites the content and technology expertise of Cenveo Publisher Services and Cenveo Learning with Sheridan Journal Services, Sheridan PubFactory, KWF Consulting, KWF Editorial, and now Allen Press. The combined company brings over 200 years of experience serving the publishing market and is powered by state-of-the-art, intelligent automated solutions and delivery platforms including Smart Suite and PubFactory. For more information, please visit www.kwglobal.com.